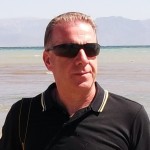 Hi Brian Watson here,
My introduction to Brisca formula one stock car racing commenced at Stoke on June 6th 1976.
Only a small selection of the photos i have taken at meetings find their way into magazines and meeting programmes, so hopefully you will enjoy some of those that didn't make it, in what could be one of the largest collection of  80's photographs around,
The vast majority of photos were taken with a Pentax MX 35mm camera, powered by a 6 frame per second motordrive, my spare camera was a Nikon EM with a 2fps motordrive. Most black and white film was self developed and printed usually on a Sunday night after meetings, so the following weekend programme or magazine demands were met.
Unfortunately a check of negatives early 2011 identified that many had been damaged during storage, so i started to scan them. I have not been selective, they all get scanned whatever condition, so i make no apologies that some are not in best shape, they might as well be on here than stuck in my loft or lost forever.
Stock Car Racing has been more than a passion, i have many fond memories and made some great friends over the years, our brand of full contact, no holds barred racing is second to none.
My very special thanks go to Jim & Rosie who introduced me to stock car racing, to Nigel 'Buster' Watson ex 59 (no relation), John Toulson ex 286, Geoff Smith of Offshore Fuels, Hartlepool and John and Joyce of John's Studio, Middlesbrough for their friendship and support over the years – thank you.
And finally to the all the drivers, mechanics and promoters.
Yours in Stock Car Racing
Brian Watson
All photography © Copyright Brian Watson. All Rights Reserved.
Reproduction of any photograph without permission is prohibited – online or offline.
Please contact brianwatson29@sky.com for details.
Website Technical Support and Hosting by Digital Red